On October 13th, 2016, the eventful life of the Italian Nobel Prize winner (1997) Dario Fo came to an end in Milan at the age of 90. Undoubtedly one of Italy's greatest writers, he spent almost 70 years of his life working in the theatre, performing and writing comedies, often in collaboration with his wife, the actress Franca Rame. An atheist and a rationalist, Fo nevertheless used to say, especially after his wife's death in 2013, that he did not believe in an afterlife, but strongly hoped to be proved wrong. His relentless political commitment on the far left and savage satirical attacks on political leaders made him a figure of enduring controversy. He leaves a complex legacy that will take many years to assess.
Born in Sangiano, near Varese, in 1926, he moved to Milan and studied architecture before enrolling in the Academy of Fine Arts. In 1954 he married Rame and later moved to Rome where the couple founded a theatre company in 1960 and worked together for over 50 years. Fo's involvement in politics began early on. He was a member of the Italian Communist Party, which he then left to join radical left wing parties. He and his wife were also leaders of the political movement "Soccorso rosso" (Red Aid) which helped, both financially and morally, many radical left-wing activists, such as Achille Lollo, Adriano Sofri, Pietro Valpreda, who were prosecuted, and sometimes condemned, for violent crimes.
Fo's creative work is inseparable from his politics. His fame rose thanks to his 1969 masterpiece, the comedy Mistero buffo (The Comic Mysteries), based on the apocryphal New Testament. Through new translations of the biblical writings and ancient medieval texts, Fo launched an amusing parody of twentieth-century Italian society. The comedy had a great and immediate success. It was first performed in La Spezia, a town on the coast of Liguria, in October 1969, with Fo the only actor, basing his performance on "grammelot", the verbally inventive combination of nonsense, punning, and mixture of languages and dialect.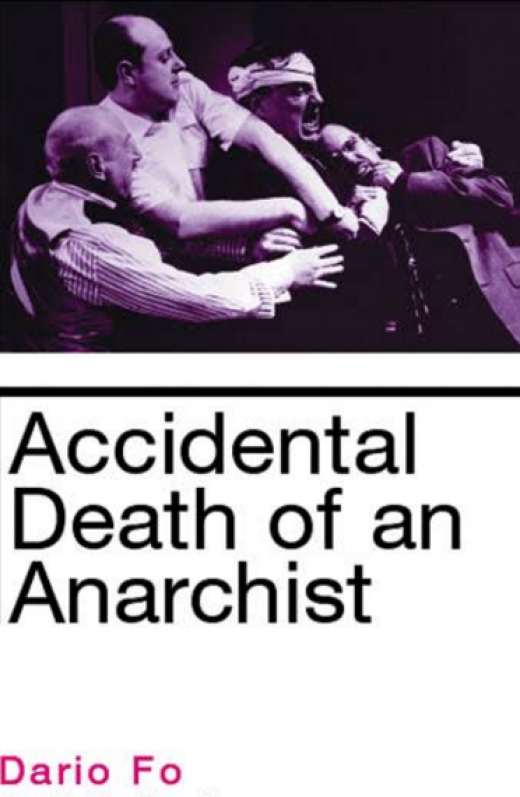 His 1970 theatre work Morte accidentale di un anarchico (Accidental Death of an Anarchist) was inspired by the circumstances of Giuseppe Pinelli's death. Pinelli was an anarchist who, on December 15, 1969, died having "fallen" from a window of the main police station in Milan, where he had been questioned for two days. Pinelli was arrested in the investigations following the horrific massacre at Piazza Fontana, in Milan, where a bomb had detonated three days earlier, killing 17 people, leaving the entire country in a state of shock. It was later discovered that the blame placed on anarchists such as Pinelli was a way to deflect attention away from the real people behind the massacre, who were all members of fascist circles.
The police maintained that Pinelli had committed suicide, but most people, especially on the left, believed he had been murdered. Certainly, he had been held illegally in the police station, since Italian law prescribes that after 48 hours a suspect has to be set free or sent to jail with some kind of charge. The "Pinelli case" was a source of harsh and violent debate in Italian society at the time. Officially, Fo was inspired by a similar event in the United States at the beginning of the twentieth century. But of course his reference was to Pinelli. The police officer in the comedy, Commissioner Cavalcioni, referenced Luigi Calabresi, the officer long suspected of having thrown Pinelli out of the window. Later, Calabresi himself was killed. The story is of course tragic but Fo's work engages in parody and uses irony so effectively that he transforms it into comedy. Fo made a powerful statement at the time by pointing the finger at the hypocritical and criminal Italian institutions, all infiltrated by extreme right-wing elements, which protected those actually responsible for the massacre and put in jail an innocent, just because he was an anarchist, and then even orchestrated his "suicide".
Bureaucracy was also a topic of Fo's comedies. For instance, in a 1959 comedy, Gli arcangeli non giocano a flipper (Archangels Don't Play with Pinball Machines), a young Dario Fo performs the story of a man who, due to a bureaucratic mistake, is registered in the municipality archives as a hound dog. As a result, he is forced to act and live as a dog until he is "put to sleep" and can "rise from this death" as a human being. This cruel logic of bureaucracy is very similar to the world described by Charlie Chaplin, a great source of inspiration for Fo. Another source of inspiration was Luigi Pirandello. Both Pirandello's and Fo's characters live in a surrealistic society and struggle to expose hypocrisy and deceit.
Fo's career started in 1950, but he came to prominence with the TV show "Canzonissima" (1962). In fact, censorship interfered so often during this series that, in the end, Fo and Rame abandoned the show, a scandal that increased their notoriety. As a result, he turned more fully to theatre. He chose public squares, working class clubs and factories as his ideal stage, neglecting traditional theatres, and cultivating an unconventional audience. Like the famous commedia dell'arte tradition, the interpretation of his works was as important as the text itself, and it could vary greatly depending on the audience, the stage and the circumstances. Consequently, Fo was hard work for the censors. Sometimes a performance was harmless, sometimes it became extremely provocative and disrespectful, due to Fo's unconventional mode of performance. His subjects were the Catholic Church, powerful figures like Gianni Agnelli (chairman of Fiat), politicians like Giulio Andreotti until the 90s, Silvio Berlusconi from 1994 onwards and, generally speaking, the contradictions, hypocrisy and injustice in Italian society.
Fo himself was not without contradictions and cases to answer. In the 1970s he faced the accusation of having joined, during the Second World War, the fascist army of the so called "Repubblica di Salò". He did not deny the accusation, but explained that he had joined as a parachutist in the fascist army so as not to be imprisoned and to spare his family and especially his father, who was well known for his anti-fascist activity. Fo was therefore a controversial person and he was involved in many polemics and conflicts. In 1973 Franca Rame was kidnapped and raped by five neo-fascist men, in revenge against her and her husband's political engagements. In 1980 the United States denied Fo and Rame a permit to enter the country because of their radical left-wing militancy. They did however receive solidarity from various intellectuals and artists, including Arthur Miller and Martin Scorsese. During his last years, Fo supported the newly created Italian party "Movimento Cinque Stelle" whose leader is the actor and comic Beppe Grillo. "Movimento Cinque Stelle" supported Fo's candidacy as President of the Italian Republic in 2013.
The award of the Nobel Prize to Fo in 1997 generated further debate. Some scholars thought that it should have been awarded to the Florentine poet Mario Luzi instead. Most of all, they underlined that although his works thrived on various interpretations, they were quite poor from the point of view of plot, language and structure. As a measure of the divided opinion, the then president of the Italian Republic, Oscar Luigi Scalfaro, a Catholic, refused to congratulate Fo on his prize. The Swedish Academy, in its citation, explained their choice: "Following the tradition of medieval jesters, Fo mocks power and gives back dignity to the victims of oppression".
It is of course difficult to express a neutral opinion on Dario Fo and his art. He was a great actor and an intelligent observer, and critic of Italian society, a committed intellectual who backed very innovative political and social ideas. He and Franca Rame did this at their own risk and paid for it with personal suffering. They had to endure attempts to vandalize and set fire to their flat in Milan. As a result, in the 70s no-one wanted to rent them a flat and it was extremely difficult for them to find new accommodation. He was also a very generous person. With the agreement of his wife, he donated the entire amount of the Nobel prize (almost one million euro) to charitable institutions. On the other hand, his political and personal ideas were contradictory and extreme. He was also one of the strongest supporters, in the early 70s, of the mass-media campaign against Commissioner Luigi Calabresi, unfairly accused of having killed the anarchist Giuseppe Pinelli. And as a result, this campaign of hatred led to Calabresi's murder.
The judgement of time is hard to predict in Fo's case. But we can state with certainty that his life was and will be considered for a long time to come a "Comic Mystery".