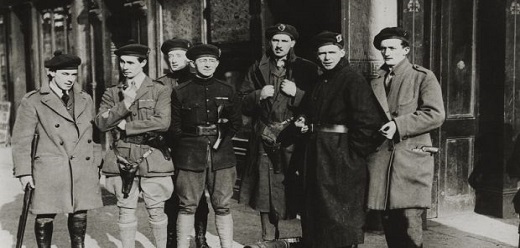 Historical inquiry into policing in revolutionary Ireland in centenary contexts this year has inevitably focussed on the advent and activities of the Black and Tans. However, the centenaries of Kilmichael and the Burning of Cork turn the spotlight on the Auxiliary Division of the Royal Irish Constabulary (ADRIC), a 'special emergency corps of gendarmerie' raised in July 1920 in response to calls for a clear counterinsurgency strategy as the War of Independence gained pace.
Headquartered first at the Curragh, and then at Beggar's Bush, Dublin, the ADRIC gradually took shape between early autumn 1920 and late spring 1921 and ultimately comprised 21 military-style companies roughly 70 to 100 men strong. Most companies were deployed to what Irish 'police advisor' Hugh Tudor termed 'threatened points and ... disturbed areas', where they were barracked in public buildings and 'big houses'.[1] For example, 'A Company' operated from Woodstock House, Inistioge, 'C Company' from Macroom Castle, and 'M Company' from the county infirmary, Longford town. Well armed and highly mobile, their misson, in so far as they had one, was to root out and neutralise local IRA units and, although under the nominal control of RIC county inspectors and divisional commissioners, they operated quasi-autonomously.
Recruitment for the ADRIC was officially confined to demobilized officers of Britain's home and imperial forces. While over 2,100 ultimately enlisted, 10 percent of them Irish born, no more than 1,500 served at any one time. These so-called 'temporary cadets', recruited on short-term but renewable contracts, formed a heterogenous group. But the average cadet was a former British Army lieutenant in his mid to late twenties from London or its wider environs. Most were enticed by the promise of well-paid post-war employment: the ADRIC's basic pay rate was £1 a day (twice that paid to the Black and Tans), supplemented with sergeant-level allowances. As one 'C Company' cadet put it, this was simply 'too good a chance to pass up'.[2] Others saw the ADRIC as a route to permanent employment in the regular RIC (64 cadets ultimately transferred as district inspectors) or an exciting alternative to a conventional army career. As Auxiliaries were not issued with a standard uniform, they turned themselves out in combinations of police, military, and civilian attire. Although distinguished from the Black and Tans by their beret-style headwear, they soon became conflated with them in the Irish public mind and the term 'Black and Tans' was routinely used to refer to the ADRIC or the two groups combined.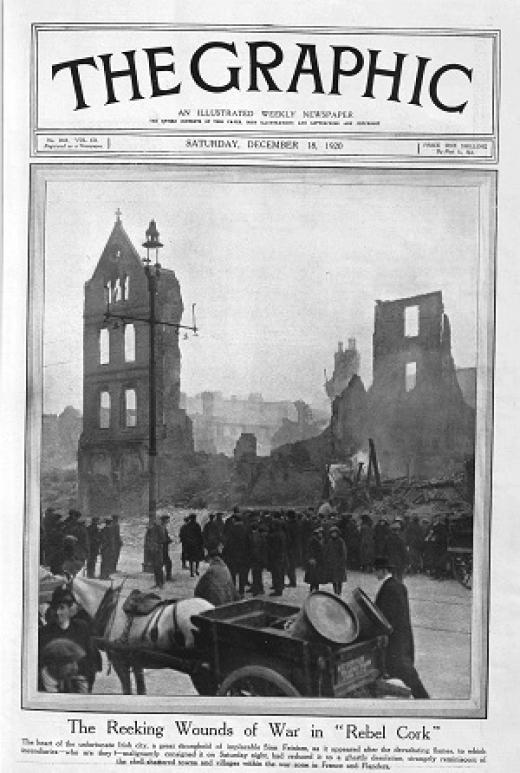 The 'Burning of Cork' on the night of 11/12 December 1920 casts the Auxiliaries in their familiar role in the historiography of the Irish Revolution as agents of British state violence. Then, a party from 'K Company' avenged an IRA ambush (in which one cadet had been killed) by looting, bombing, and burning businesses and public buildings in Cork city centre, leaving a five-acre area in ruins. However, the Burning of Cork was but the 'spectacular' amongst a series of crimes perpetrated by ADRIC personnel in 1920/21, most notoriously the murders of the Loughnane brothers in Galway (Nov. 1920), the attack on the Chandlers in Robinstown, Trim (Feb. 1921), and the Limerick Curfew Murders (March 1921). Crimes such as these, perpetrated by what David Leeson termed cadets acting 'more like terrorists than policemen', quickly earned the ADRIC an infamy rivalling Cromwell's in the demonology of nationalist Ireland.[3]
The Kilmichael Ambush of 28 November 1920 casts the Auxiliaries, less familiarly, as victims. For while three of Tom Barry's flying column died in result, the 'C Company' patrol that they targeted was all but wiped out. Fifteen of the seventeen Auxiliaries present were shot, bayonetted, or bludgeoned to death on the spot, some while prisoners of Barry's men. A sixteenth, 21-year-old Cecil Guthrie who escaped the site wounded, was captured and killed two days later.[4] Traditionally, this annihilation of an ADRIC patrol has framed Kilmichael as a watershed event in the War of Independence, the first occasion on which (as the famous 'rebel song' puts it) the poorly armed and ill-trained 'boys' of the IRA took on and 'laid low' the Crown forces' counterinsurgency crack squad. Certainly, the ambush's planning and execution demonstrated tactical expertise on (British ex-serviceman) Barry's part, and even Lloyd George conceded that it was a 'military operation … of a different character' to what went before.[5] However, the calibre of Barry's ADRIC 'foe' is open to question.
IRA intelligence operative Eamon Broy described the Auxiliaries as 'almost bullet-proof … redoubtable adversaries' and, drawing on the use of the term in ADRIC recruitment notices, historians routinely present it as a corps d'elite.[6] However, as Andrew Nelson has observed, this term's connotation has changed over time. While it has become 'particularly associated with special forces units …. of exceptional military skills and fighting ability' since the Second World War, in 1920 it 'simply signified that a military formation consisted of specially picked men'.[7] Contemporaneously applied to the ADRIC, corps d'elite merely meant that a wartime commission in His Majesty's forces, together with a 'first-class record' were theoretically required, giving its members a cachet the Black and Tans could not claim. (In practice, a few dozen non-commissioned men were enlisted, while a record of 'good' or above was generally accepted).
Certainly, the ADRIC did not represent a military or martial elite. Extensive research by David Grant demonstrates that fewer than one-third were drawn from the traditional British officer class and just over one-third were 'temporary gentlemen', while fully four-fifths held the most junior commissions, viz. lieutenant or 2nd lieutenant.[8] And while much has been made of the 633 medals for gallantry awarded Auxiliaries during the Great War, these were shared amongst around 430 men comprising just 20 percent of recruits, a percentage roughly corresponding to that for the British officer corps as a whole. An analysis of these decorations, together with data on former regiments and wartime promotions, indicates that the cadets' combat experience also broadly compared.
Making his case for an IRA military service pension 20 years after Kilmichael, Barry described the 'dreaded Auxiliaries … [as] mercenaries who were specially enlisted for their fighting qualifications and their bloodthirstiness'.[9] Yet, as Nelson has noted, of those that were killed in that ambush, only half 'appear to have had extensive "real war" experience, while nearly a quarter [who were ex-RAF]… had no practical exposure to fighting on land, a profile which was scarcely suggestive of readiness for the novel demands of mobile counter-insurgency operations against a resourceful enemy'.[10] This was reflective of the force as a whole. Although the great majority of Auxiliaries had 'fighting qualifications' they were, in most cases, not the right sort. Fully one-quarter of those recruited were former Royal Navy or Royal Flying Corps/RAF, while the 'real war experience' of the ex-Army had limited application to the 'war without battles and trenches' a guerrilla insurgency comprised.[11]
The extent of 'bloodthirstiness' amongst the Auxiliaries is impossible to assess. In a rather astonishing, but influential analysis, A. D. Harvey explained ADRIC violence with reference to 'fractured personalities … whose outward stability depended on the psychic reassurance' of soldiering and Eamonn T. Gardiner's pioneering research has revealed disproportionate levels of psychiatric breakdown and stress amongst Auxiliaries, including those killed at Kilmichael.[12] Some, undoubtedly, were the 'conscienceless vindictive brutes' of Irish republican lore: indeed, one cadet working as an IRA agent reported that one in 10 were 'bad eggs'.[13] However, outrages like the Burning of Cork primarily derived from the situation into which Auxiliaries were thrust, viz. the frontline against a frequently vicious IRA guerrilla campaign they were ill-equipped to confront. Their unpreparedness for counterinsurgency produced a default response of brutal coercion which routinely crossed the (already high) threshold for state violence in revolutionary Ireland. This response was fuelled by disgust at the IRA's 'devious' and 'dishonourable' hit-and-run tactics, and rage at the killing of comrades by perceived cowards who shirked a fair fight in favour of 'pettifogging ambushes and assassinations' carried out with active societal support.[14] As J. G. Farrell's fictional cadet, Captain Bolton, expressed it: 'There are no innocent people in Ireland these days. If you put on a uniform like this, you'll find everyone's your enemy'.[15] Facilitated by poor command, a corporate impunity culture, and an official ambivalence towards reprisals that shaded sometimes into sanction, Auxiliaries imposed what Leeson termed their own 'form of rough justice'. 'Even ordinary men', he observed, 'would have committed atrocities under circumstances like these'.[16]
---