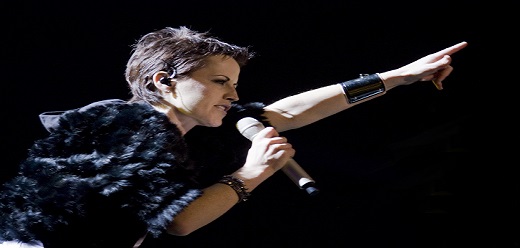 That the global headlines proclaiming the unexpected death of 'The Cranberries' singer Dolores O'Riordan emanated originally from the regional newspaper, 'The Limerick Leader', would not have surprised anyone who knew even a little about Dolores' passion for her family and for her home city.  This was further underscored by the family's generous and insightful gesture to allow for the public repose of her body in St. Joseph's church in the city, before a private burial in her home parish of Ballybricken, where she was interred with her father.  They understood the public's need to grieve and the mourners came from across the city, county, country and much further afield.
What may have been more surprising for some was the revelation that Dolores and 'The Cranberries' continued to have a substantial fan-base up to the present, not just in Limerick or even Ireland, but across Europe, Russia, and South America, as well as the USA, Canada, and Australia.  Fans both young and old travelled from all over the world to pay their respects in person, while online, Youtube videos featuring musical tributes proliferated across the globe, including 'Zombie' by multiple musicians in St. Petersburg and 'Dreams' by the children's choir, PS22 Chorus, Staten Island, New York.  Wonderful old archival footage also appeared on various social media platforms, including this compelling Cranberries recording session for Dutch TV in 1993, featuring 'Wanted'.
Much of the coverage of Dolores O'Riordan's untimely passing has focussed on the heights of fame achieved by the band in the 1990s, with the release of their first album 'Everyone else is doing it, so why can't we' in 1993 (featuring 'Linger' and 'Dreams'), followed by 'No Need to Argue' in 1994 (featuring 'Zombie', which was O'Riordan's response to the 1993 IRA bombing in Warrington and which referenced the 1916 Rising). It was on these particular albums and hit songs that many thoughtful, personal articles (especially by women) focussed, including Helen O'Rahilly's in 'The Irish Times', Una Mullaly's in 'The New York Times' and Amanda Petrusich's in 'The New Yorker'.  Countless other writers and twitter commentators reminisced upon how the band seemed to encapsulate the 90s zeitgeist, and on the profound impact they and Dolores as lead singer had on their lives and sense of who (and where) they were in the world at that time.  Others took a more expansive overview. Stuart Clarke, one of the earliest writers to promote the band, featured an extensive article in the latest Hot Press entitled 'Ode To Dolores'.  This non-sycophantic, non-sensationalistic article is dominated by many direct quotes from interviews with Dolores over the years, allowing her voice and personality to shine through, revealing a funny, shy, complex and always self-reflexive person.  The feature is accompanied by reflections from four of Ireland's 'finest female singers' on the influence Dolores and the Cranberries had on them.
There is no doubt that 'Linger' and 'Zombie', along with 'Dreams' are the songs that have received the most attention, followed by '(I'll miss you) When you're gone', for obvious reasons.  With few exceptions, far less attention has been paid to the band's most recent release, the 2017 'Something Else'. Featuring what to some might first appear as 'covers' of their 1990s materials, the album is, nonetheless, far from a 'greatest hits' compilation. Acoustic versions of familiar songs newly recorded by the band are embedded in lush string orchestral settings, sensitively rendered by members of the Irish Chamber Orchestra, as arranged by Ken Rice. But rather than interpreting the album as act of nostalgia by a middle-ageing band looking back on their glory days through repacking and recycling their hits, 'Something Else' is as its name suggests. Over the past decade, Dolores O'Riordan and other members of the Cranberries found new ways to express their creativity, pursuing many different projects separately and together, including Monoband, D.A.R.K, as well as two solo albums by Dolores. Significantly, three new songs are featured on 'Something Else', including 'The Glory', the last song to be penned by Dolores O'Riordan and Noel Hogan, in that great song-writing partnership that had lasted twenty-five years.  It seems to capture where Dolores O'Riordan was now finding herself, following years of success and fame, interlaced with personal challenges including the onset of particular physical and mental health issues, things which she spoke about candidly and bravely.
'Could you come over', the singer asks, sweetly and plaintively.  'I'm feeling sad, I'm feeling bad'.  'I'm feeling blue/what could you do? 'You could come over', she cajoles, as 'the winter comes' and 'it snows'. 'Lost', it is only through seeing 'the rose' and 'the glory in your eyes' that the singer feels hope, even as she makes reference to how 'the Banshee cries when someone dies'.  It is a beautiful, poignant song, bittersweet and perfectly capturing the complexity of the singer and the continued beauty of her voice in her forties, now an experienced mother, but still also a daughter who has lost her father.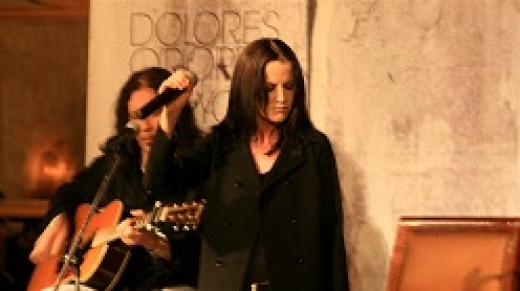 There is no doubt that Dolores O'Riordan had an original voice.  The elements that shaped this voice were profoundly local, tied to her experiences as a Catholic schoolgirl, an East Limerick musician (who went hunting the wren), and a daughter of a singer with a deep love of country music.  Dolores' formative experiences as a musician were as a singer (and organist) in church and school.  This was a repertoire that shaped her as it did so many of her generation, though besides hymnody, she proclaims to have acquired a deep passion for Gregorian chant at an early age.  Church voices tend towards the unadorned – powerful,  committed and true to the message of the lyrics.  These elements were certainly found in Dolores' voice throughout her career.  But there was also the particular attack on syllables, the grace notes on the key words, the glottal ornamentation that marked her sound as indelibly Irish (this influence of sean nós and Irish balladry is something astutely remarked upon by Damien Dempsey on hearing of her death while attending Shane McGowan's 60th birthday party at the National Concert Hall).  And what about that yodelling?  Was it an affectation?  Dolores mentions in numerous interviews that it was upon listening to her father singing his favourite cowboy song that she learned this vocal trick, adapting and incorporating into her own unique sound.  This wasn't just an American affectation.  The resonances between American country, Irish country, Irish balladry, and sean nós were all part of a spectrum of embodied sonic experience.  They made up the everyday soundscape of her parents' generation, of her own upbringing, and thus of her generation too, remembering that by the time she joined The Cranberries, she apparently had never attended a rock gig.
As she progressed and developed her style and capacity to sustain performance at a professional level, she found resonances with other powerful female Irish singers, including Sinead O'Connor.  But Dolores always remained true to her unique sound, and her native accent never drifted into that mid Atlantic, dislocated and anonymous twang. This commitment to her roots seems to be what people most admired about her.  Together with her talented band-mates, brothers Noel and Mike Hogan, and Fergal Lawlor, Dolores O'Riordan and 'The Cranberries' scaled unprecedented heights in the popular music world.  It is sad and regretful that they didn't have a chance to continue together in 2018, on the 25th year anniversary of the release of their debut album.  But there is time in the months and years ahead to reflect on Dolores O'Riordan's unique contribution to popular music; to consider her particular socio-political views and to interrogate how that shaped her voice and musical output; to analyse her song writing and performance practice in various contexts, including within a conservative, Catholic matrix as well as deeply-held personal belief system; and to understand her in new ways through a feminist critique of the role of Irish women as artists, social commentators, and leaders.  In that way, for example, what some critics saw as apparent lyrical 'aberrations' (or mommy-schtick as one commentator put it) that dealt with familial love and being a mother, can be properly understood and sensitively reappraised.  Dolores found her own unique and fragile way to be a rock star, as her life (and death) attests.  More than her songs will endure.