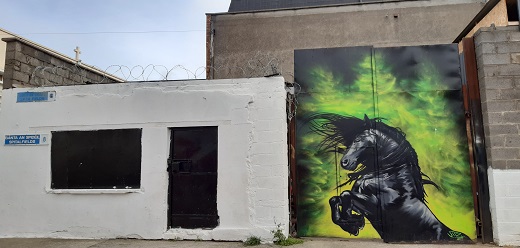 If a person is very lucky, as I have been, they will discover something which delights them and ignites an unquenchable excitement in them. In my case it was Peter Atkins' (2012) book Animal Cities: Beastly Urban Histories. With chapter titles such as The Urban Blood and Guts Economy and Animal Wastes and Nuisances in Nineteenth-Century London, this book might be expected to attract a niche audience at best, however that audience is far bigger than one might imagine. The last couple of decades have seen animals placed at the intersection of a number of different fields of study and Atkins' book is just one of many wonderful new histories examining the human-animal relationships at the heart of cities such as London, New York, Paris and most recently Dublin during the 19th century.
When humans first chose to settle down, they brought the animals they depended upon with them and since then, for thousands of years, humans and animals have co-existed in built environments interacting in complex interdependent relationships[1]. Geographer David Harvey[2] described the animals such as horses, cows, pigs and sheep who lived and worked in London in the 19th century as "urb-an-imals" as these were the animals which worked in and fed the city. So important was the horse to historic societies and economies that when new technologies such as steam powered locomotives were invented the energy they produced was measured in 'horse power' and this is a term which continues to be used today.
In fact, animals should be credited as coproducers of historic urban landscapes through their interactions and intra-actions with humans[3] and much of inner-city Dublin today was originally shaped by the need to accommodate past animal residents as much as human ones. Roads and entrance ways were designed to accommodate horse-drawn carriages and the city's laneways which today house businesses and mews dwellings, were formerly stables, coach houses, barns, cow houses, dairies, piggeries, boiling houses and forges.
At the end of the 19th century there were around 8,000 horses and 4,000 pigs living in Dublin city while nearly 200,000 cattle and 300,000 sheep passed through each year. In 1901, 803 Dubliners worked as cattle dealers, drovers, farriers, vets; 1,430 persons worked in carriage and harness businesses and 552 persons worked with animal substances including candlemakers, tanners, glue and fertilizer makers. However, over the course of the 20th century most of these animals, and most of these jobs, disappeared. The city has become a cleaner, healthier, less smelly and less chaotic environment for most Dubliners but little consideration has been given to their broader impacts for those communities where work and life revolved around animals. The city has been reshaped as an environment where now animals are no longer welcome except as pets or spectacle.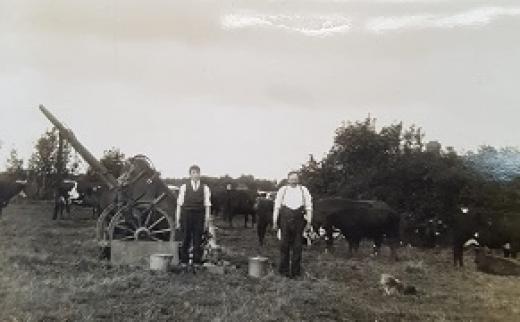 The difference between 1901 and now is wonderfully illustrated in a document produced by the census commission analysing occupations of men and women in Dublin city centre at the time. Section XIX Persons Working and Dealing in Various Animal Substances includes tallow chandlers, soap boilers, glue makers, manure manufacturers, furriers, skinners, tanners, fellmongers, curriers, comb makers, brush makers, feather dressers, vellum maker/dealers and, of course, leather goods makers! That's one hell of a long way from the baristas and social media influencers of today.
Since animals lived, died and were transformed into all manner of things right in the heart of the city, over time communities were built around certain industries. For example, all of the animals living in the inner city where grazing was not an option needed to be fed and, then as now, fodder was expensive. However, as waste products, the spent grains from breweries and distilleries provided a cheap alternative to expensive hay and oats. A large number of animals were kept in the vicinity of the St James's Gate Brewery, the Anchor Brewery along with several smaller breweries, distilleries and malting works.
In this area the census returns show four piggeries on Marrowbone Lane and two in Pimlico while James Street had forty-two ­stables, twelve cow houses, one piggery and ten fowl houses and their presence here would suggest that their owners were availing of this cheap food source for their animals. The smell must have been quite something.
This is an area of Dublin which is very old and was originally built outside the city walls where ancient animal-related industries were still to be found at the beginning of the 20th century including the tannery on New Row and glue works on Summer Street. At that time large swathes of the Liberties were in tenements and the majority of residents lived in overcrowded unsanitary conditions. Ironically Bye Laws passed under the Public Health Acts of 1878 and 1890 which ensured that 'Irish animals have generous amount of space, fresh air and water' meant that in some cases the animals in the area were better housed than the humans as witnessed by a Miss Rooney in 1907 who noted that "homelessness is preferable to some of these wretched abodes in which they live"[4].
It's important not to forget that Dublin was a city of extremes and great wealth also existed. Just a couple of miles from the Liberties across the river, and centred around the hub of British colonial power in Ireland, was Marlborough Barracks (now McKee), Royal Barracks (now Collins Barracks) and the Viceregal Lodge in the Phoenix Park. Both barracks housed large numbers of horses and McKee now houses the Irish Army Equitation School. Running up to the gates Phoenix Park you had the beautiful tree-lined North Circular Road with its grand mansions, behind many of which were stables and carriage houses. What could be nicer than riding out in the largest walled park in Europe? In fact, there were stables near all the entrances to the park for just that reason right through the 20th century and one still remains near the Ashtown gate today.
Above are just a couple of examples but animals could be found all over Dublin at the beginning of the 20th century and only disappeared from the city very slowly. Much more slowly than many of their European and North American counterparts in fact and understanding why animals lingered so long in Dublin will be crucial to my research. There is a definite geography to the spatial dispersal of animal-related economies around the city with the most noxious and polluting being situated in the poorest areas where the people were powerless to object to how they further degraded their living environments although public health and sanitation laws, along with the creation of the garden suburbs surrounding the city, were intended to help the poorest communities. However, many Dubliners' livelihoods, identities and culture were inextricably linked with animals and the major social and economic changes of the 20th century saw human-animal relationships in Dublin profoundly altered.
I plan on using an array of methods which will allow me to look at the city and its human and animal inhabitants from multiple angles and perspectives over the course of the 20th century starting with the creation of a map of animal spaces at the end of the Victorian era using GIS. I will collect oral histories and investigate archival sources including local byelaws and national legislation on sanitation, food safety, fire safety, Dáil and local council debates and print media. Examining how the roles of men and women tending animals and working in animal industries differed and if there were different consequences for men and women of different classes when these animals and businesses disappeared will be central in this research.
Although most of the animals and industries were gone from the city by the 1980s some still stubbornly remain such as the stables on Molyneux Lane off Thomas Street where some of Dublin's jarveys keep their horses and carriages. However, Dublin City Council approved the demolition of the yards in August 2020 to make way for the development of yet another hotel in the area although this decision is currently being contested by a group lobbying for the horses to remain as their presence is deemed vital to the identity and culture of the Liberties. Apart from pampered pets and urban foxes and rodents few other animals remain in the city today unfortunately. On an Instagram page – Dublin's Animal Past – I am posting images and short explanations of the traces that remain of the animals and industries which were once ubiquitous with the city. In the later half of the 20th century many of the animals and industries (such as piggeries) which remained did so illegally and so will be difficult to track down through traditional sources and I would very much welcome any materials such as old photos or family stories which could help me locate them. I can be contacted at ann.durkan2@mail.dcu.ie
[1] Riegner, M. (1993) Toward a holistic understanding of place: reading a landscape through its flora and fauna. In Dwellling, Seeing and Designing: Toward a Phenomenological Ecology. New York Press P. 181-218
[2] David Harvey 1996 Harvey, D. and Braun, B., 1996. Justice, nature and the geography of difference (Vol. 468). Oxford: Blackwell.