My major task for this week was collating, distributing and editing third draft chapters from contributors to a co-edited project I've been working on for the past eighteen months, entitled 'Songs of Social Protest'.  The book is one of the major planned outputs following the hosting of an international conference in April-May 2015 in University of Limerick, entitled 'Songs of Social Protest' which was co-organised by two research clusters I'm part of  - PMPS@UL (Popular Music and Popular Culture http://ulsites.ul.ie/pmpc/) and PDS@UL (Power, Discourse and Society  http://ulsites.ul.ie/pds/).
After the conferences, my co-organisers and I put out a wider call for chapter submissions for an edited collection on protest songs, having secured a contract with Rowman and Littlefield International publishers in their 'Protest, Media, and Culture' series https://www.rowmaninternational.com/our-publishing/series/protest-media-and-culture/ .  The process of putting a book together takes a long time, and even more so when over thirty contributors are involved, covering different genres of music, from various geographical locations and historical eras. A quick sample includes African American spirituals and protest songs from the folk revivals in the UK and US; LGBT protest songs; songs from ethnic minorities in various parts of the world, protesting against caste systems or systematic exclusion; protest and propaganda songs from separatist nations; songs critiquing neoliberal agendas.  When we proposed the book, the world was a somewhat different place (pre-Trump, pre-Brexit, pre-Hong Kong democracy challenges, etc.), so it has been interesting and challenging to keep the book on its original path and not to constantly feel each chapter has to respond to rapidly changing events.  At the same time,this has made us aware of the importance of the project.
With four editors working on the collection, it makes things easier if we divide up the chapters for editing by drawing upon our respective areas of expertise.  We then rotate chapters to ensure consistency. My fellow editors, Martin Power, Eoin Devereux, and Amanda Haynes are based in sociology (I'm an ethnomusicologist) and have a lot of experience in writing and editing. We have worked together on projects before so we know we can rely on each other. The drafts I've been distributing this week are all in good shape, having had two previous interventions in terms of structure, style, and content. The most important intervention we had to make with our international group of contributors, who range from PhD students to professors, was to ensure they wrote their respective chapters for an international audience and made it clear precisely how they framed their work in relation to protest (music) literature.  It might seem obvious but it has proven to be surprisingly challenging for some.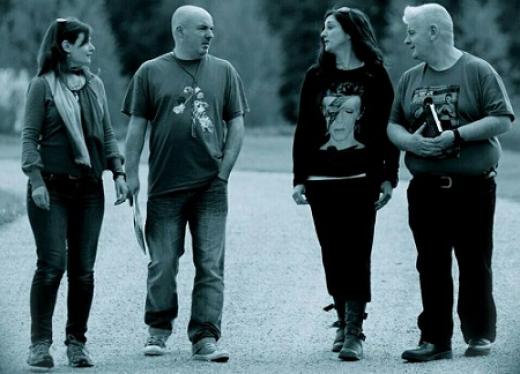 On Monday, the editors had a meeting to go through what was required for these final edits, including what chapters needed extra attention based on the last round of edits.  I had to establish whether a couple of the contributors who had missed the deadline were still planning on submitting. Unfortunately, in one case, a female colleague had to withdraw.  She is based in Turkey and her head of department was recently arrested and now she has to focus on keeping the department going.  The emotional toll is proving considerable, making it hard for her to write.  I offered her extra time and personal assistance but she is simply unable. For me, the irony is profound.  This young scholar was writing on protest music in Turkey and now she is silenced by the regime, albeit indirectly. 
As first named editor on the book, I have some extra responsibilities in terms of keeping track of copyright permission forms (if needed, when, for example, quoting song lyrics).  It's really important to keep a database on this aspect of the book, as when it comes to the preparation of the final manuscript, this is where delays can occur, or worse, where changes have to be made to content because permission has not been secured.  On Tuesday and Wednesday, then, I spent my time updating and cross-checking permissions as well as carefully going through some of the eight chapters I was assigned to edit.  I have found that it is best to work on no more than two chapters a day, for optimal concentration levels to ensure accuracy. My fellow editors and I also finalised our own contribution on the protest songs of Irish singer-song writer Damien Dempsey on Wednesday.  At this point in the project, all that remains for us to write is the introduction, which is planned for later in July. The publishers have also been in touch about a book cover, so exchanges on this have been happening all week. I'm hoping we can secure an original image of protest singers.
On Thursday and Friday, I had to turn my attention to another project. As deputy editor of Ethnomusicology Ireland, I was responsible for checking and formatting articles for imminent publication. The articles are compelling and varied but required much more work than I had anticipated, which meant working on the weekend to make sure I made the deadline.  It is particularly important to get this edition out in advance of the hosting of the International Council for Traditional Music's bi-annual conference at the Irish World Academy in UL this and next week http://www.irishworldacademy.ie/ethnomusicology-special-events/ictm-world-conference/. Ethnomusicology Ireland is an open-access journal of the national branch (ICTM Ireland http://www.ictm.ie) of this international organisation and the editor, Tony Langlois of MIC, wants to launch it during the event. I think we will make it in time.