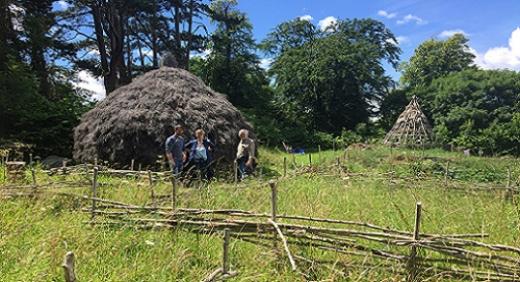 At the beginning of August, you realise that whatever plans you might have had back in June for one of those mythical academic summers—gazing out a window thinking profound thoughts, as you work on your latest brilliant book— are now slipping away.
In the first week of August, you realise that time is ticking now to the beginning of semester, and the new academic year. You remember that the first week of teaching is now only 4 weeks off, and you have to be ready for it. You have your programme and module handbooks that you need to finish, checking module descriptions, learning outcomes, assessment strategies and reading lists while ensuring that the deadlines for submissions are correct. You are also ensuring that you are ready for the lectures that will need to be re-written (because you have, in a fit of madness last Spring , foolishly decided to redesign some of your courses…).
But it is still August, so you have other things to do first…mostly relating to administration and summer semester teaching.
I am the Director of the UCD Centre for Experimental Archaeology and Material Culture. This is located on University College Dublin's leafy campus, and is the only dedicated university campus facility in the world for experimental archaeological research, teaching and public engagement. Experimental archaeology can be defined as the reconstruction of past buildings, technologies, objects and environmental contexts, their testing and use, so as to gain a better understanding of the role of material culture in people's lives in the past. We explore ideas of craft, materiality, knowledge, skills and the use of different materials to practically test how people made, used and discarded things in the past. We have researcher offices, laboratories, seminar rooms, and most importantly, a large, gated enclosure where we can build replica prehistoric and medieval houses, we can cast bronze brooches, smelt and forge iron, work flint and stone, make and fire pottery in bonfires and kilns, and carry out various experimental archaeology projects on foods and plant remains, in projects ranging in date from the Mesolithic to the late Middle Ages. This summer for example, our researchers investigated early medieval blacksmithing in northwest Europe; the use of Bronze Age woodworking tools in Britain and Ireland; the construction of Bronze Age Minoan pottery kilns in Crete; the manufacture and use of Roman ceramic lamps; the brasing of early medieval ecclesiastical bells so as to cover them in bronze, and so on, and these are only a few of the research projects at CEAMC.
At the beginning of August, I drove across the country to Achill Island, Co. Mayo, to give an archaeology lecture to students enrolled in an archaeological excavation field school. They, along with their site director, were digging a Bronze Age house on the slopes of Slieve More, and in the evenings they attend lectures on various topics. Mine was about how we can use experimental archaeology to investigate the architecture, technologies, and uses of houses in the past. As a university academic, I will nearly always say yes to a request to give a lecture. It feels like public service, and in any case, you'd always like to help a colleague out. It's enjoyable anyway. Achill Island though, is a long way away, and it's a long way back to Dublin, so it's two days work. However, it's nice to be out of the office and to feel the Atlantic breezes on Keel Bay...
By early August, two of my PhD students are in the final stages of writing their theses, one on the role of the church in the early medieval economy, and the other on the reconstruction of heat-based technologies (i.e. Ironworking, copper-working and ceramic manufacture) in early medieval Ireland. Both are Irish Research Council-funded PhD scholars and are at the top of their games. We are now long past the stage of the relaxed academic chats over coffee, the airy recommendations you make for further reading, the discussion of knotty problems. It's serious 'get-it-finished' time now.
They are working long days to get the texts finished, the appendices finalised, the illustrations gathered. This is the time when you, as an academic supervisor, have to use all of your experience and knowledge to help the students make the best final decisions in the run in to submission. You get near-final versions of chapters by email for review, you read through them on screen, highlighting corrections and making suggestions and comments on their text, you send them back, and then you pick up the phone once the email is sent, to temper the criticism, and to talk over the options. It's an exciting time, because by now, your PhD students are experts in the field, probably far more expert in the subject than you are, and you are witnessing original, substantive research at the cutting edge. You may well read them wistfully, imagining what it would be like to be working on a book or paper of similar excellence, but this is not your job at the moment…
In early August, I am also supervising and reading chapters for MSc and MA in Archaeology students who are going through much the same process, they have been working all summer too, but their theses are 15,000 words long, rather than 80-100,000 words. Their projects are the result of a few month's work, albeit at the end of one year of study, unlike the PhD students who have been working for 4 years. Nonetheless, your Masters' students are in a similar stage of transformation, creating a thesis from their own studies and practical work, and their theses are often original, substantive and significant works of scholarship too. You're also aware that this is their first time writing such a substantial piece of scholarship, and that this thesis is close to their hearts, and is important to them. You attend to them, making sure they are ok, working well, but not stressed. They are rarely far from your mind as August starts – they will be submitting in a few weeks.
Subsequently,  thoughts turn toward the incoming MSc students. I am co-ordinator of UCD School of Archaeology's MSc in Experimental Archaeology and Material Culture. For 2017/18, we have c.14 incoming students from USA, Canada, Greece, France, UK and Ireland. I'm in email correspondence with them all, answering various queries about the course, about UCD and offering advice on accommodation – a huge issue for all students. Most importantly, I need to double-check and ensure that the MSc programme structures are up online on the UCD system, that modules and other details are properly in place. I'm working with my UCD colleagues to ensure that the final timetable is correct and that there are no clashes or glitches (there are only a few).
In other words, in early August we are really starting to get ready for the new academic year, and it all has to be in place. One of the odd things that you do in August indeed, as an MSc programme co-ordinator, is attend to three different student cohorts: your students for the current 2016/17 academic year, your incoming students for the 2017/18 academic year, and encouraging applications for students for the 2018/19 academic year.
This ignores all the other things I've been doing in August, involving research project planning, some writing (very little), reading and many more meetings than you'd think. Out of curiosity, I just checked my email inbox. Not including the spam that I've deleted, I received 1,206 emails in August. This is a light time of the year email-wise (in semester, you could easily get 100 emails a day). A good proportion of them relate to academic course preparation, enquiries from the public (archaeologists get a lot of questions, which we try to answer), conversations with colleagues, enquiries from prospective Postdoctoral Fellows, PhD students and MSc/MA students, interested in applying to study in 2018/19. I was also in discussions with colleagues for a book that we co-edited that was to be launched at the end of August, entitled "Stories of Ireland's Past: Knowledge gained from NRA Roads archaeology", but as welcome as the book is, that was work that was done last Spring, and doesn't really count as August activity. I have been planning another book, but more about that another time…
One of the research projects that we have been designing, planning and putting into place over the last few years has finally now started in early August. The project, entitled the"Food Evolutions Project"will be based at CEAMC and will use anthropological knowledge, ethnoarchaeology, experimental archaeology, culinary arts, and food science to explore innovation and change in modern foodways and culinary practices.Professor William Schindler has been appointed as a Visiting Professor in the UCD School of Archaeology for 2017/18. Prof Schindler is the world's leading primitive technologist/experimental archaeologist and an authority on ancient food practices, as well as being an accomplished chef, baker, forager and hunter himself. He will be working in collaboration with myself at UCD School of Archaeology, and with Jason O'Brien of Odaios Foods, and we will also be working with Airfield Farm, Dublin's only working farm open to the public, with its unique farm, gardens, café and heritage experience, where some of the project's food and restaurant events will be held and demonstrations organised.Amongst the other outcomes will be an academic book, a conference in 2018, and Prof Schindler will also do some teaching in our MSc in Experimental Archaeology and Material Cutlure. It is an exciting prospect to look forward to. 
Other activities in early August included designing and planning for an experimental archaeology conference in Athens, Greece for 13th-15th October 2017, which UCD School of Archaeology's Centre for Experimental Archaeology and Material Culture are organising in collaboration with the Institute of Irish Hellenic Studies Athens (IIHSA) and the Museum of Cycladic Studies. But this is several month's off yet, but it's something to look forward to in the season of mists and mellow fruitfulness…
So, a busy season.