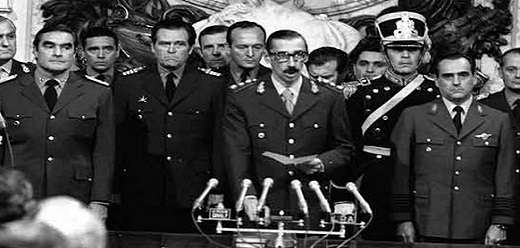 Over the past four years, I have been working on my PhD research project funded by the Irish Research Council which has involved analysing the newspapers and cartoons of the final year of Argentina's 1976-1983 dictatorship. During this time, I have had the opportunity to travel to Buenos Aires for archival work, from the UK to Cuba for conferences and to Spain and Finland for short stays as a visiting researcher. Since this summer was to be my last as a PhD student, I knew it would be a particularly "busy season" involving final presentations and preparing my thesis for submission.
At this stage of the project, I wanted to do something different. So, on 21 June 2018, I participated in ResearchFest at InspireFest, a two-day science, and technology conference at Dublin's Bord Gáis Energy Theatre. At ResearchFest eight PhD students from a range of third level institutions across Ireland were selected to summarise our projects in a three-minute pitch without slides or notes. The task was a difficult one, not only in having to remember a three-minute speech while keeping to the limited time but also in breaking down complex findings and explaining them, without using technical terms, to a non-specialist audience. Prior to the event we had the benefit of training from SNP Communications to show us how to effectively engage the audience. Although the minutes before were anxious ones, the presentation went well, I remembered my speech and the audience response afterward was great, raising many interesting questions and further issues to think about.
While the experience of ResearchFest was extremely positive, it made me more appreciative of the more normal twenty-minute timeslot allocated for regular conference presentations which allows more time to develop theories and nuances of the data analysis. With a sense of relief, therefore, I flew to Aalborg, Denmark, on 4 July to present at the Critical Approaches to Discourse Analysis Across Disciplines (CADAAD 2018) conference. With 180 delegates working on cross-disciplinary critical discourse research, the topics over the three days were as varied as you could imagine, from the analysis of rap lyrics by Asian-Americans to an investigation of the rhetoric used by Queen Elizabeth II in her annual Christmas messages. My presentation was scheduled for the second day of the conference, in the Thursday morning session on the top floor of Aalborg's Comwell Hotel Hvide Hus with a panoramic view of the city. My paper concentrated on two newspapers which opposed Argentina's dictatorship. I addressed how their political critique was framed and what factors could have motivated the editor-journalists of these newspapers to adopt this stance in the country's climate of fear, censorship and widespread disappearances of dissidents. I also spoke about how these newspapers, in challenging the official narrative of events, inform alternative memories of the regime in Argentina's contemporary post-dictatorship context. There were some insightful questions from the audience mostly around my use of Latin American methods for linguistic analysis which they had not seen before. This discussion also led to a dynamic panel debate with other members who had interesting perspectives from their own work into media representations of the 2015 Iran nuclear deal, the 2015 Bangkok bombing and infant feeding in US parenting magazines.
Unfortunately, this summer was not all about conferences in lovely locations. I was also required to attend a week of workshops on various contemporary issues in third level education as part of the Graduate Diploma in Teaching, Learning and Scholarship I have been completing over the 2017-2018 academic year at The University of Limerick. During the summer period I had to deliver a group presentation and write a 4,000-word individual essay on the topic of the academic identity of "blended professionals". These are defined as individuals who combine teaching and researching in universities with industry roles and generally have a strong non-academic professional background. Exploring this topic involved a lot of extra reading but this helped me to realise that the integration of such professionals in academia is an emerging issue internationally and one which will gain even more traction in the years to come as the number of such individuals employed in higher education increases because of their practical and often leadership skills.
Due to my own background in Journalism, I have opted for the PhD by publication route, a challenging option where between three and five single-authored articles must be accepted by recognised journals in the field and a compilation thesis written drawing the different theory and methods of the articles together. While there are many advantages of this format of PhD, often called the Scandinavian model due to its prevalence in the region, including the opportunity to gain invaluable experience of academic publishing processes and a more direct route to publication, the main drawback is the long period involved in waiting to hear if articles have been accepted. At the end of August, after six months, I received the news that the final article of my project would be published later in the year. This brought me relief but also anxiety that the next step would be submitting the compilation thesis to the Graduate School in September before facing my viva this November.
In the meantime, new issues have emerged. Can I afford to do a postdoc? Should I even apply for a postdoc or look for employment? Is it a good idea to take up a position in the UK with Brexit looming? Should I stay in Ireland on a short-term contract? Finishing my PhD by no means heralds the end of "busy season" and instead brings new challenges and even uncertainties in the increasingly competitive academic job market. Still, I have so many fresh ideas for research projects that, more than anything, I am excited about what the next stage will bring.