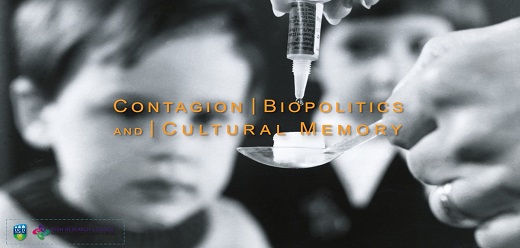 My main task last week was to work on a new project, Contagion, Biopolitics and Migration in European Cultural Memory: using large scale historical datasets to understand contemporary attitudes and improve public health outcomes, (www.contagion.ie) while completing a book chapter on some of the extraordinary nineteenth and early twentieth century Irish women writers like Charlotte Riddell and Katherine Cecil Thurston that we have worked on as part of an older project, 'Nation, Gender and Genre: A Comparative Social Network Analysis of English and Irish Fiction, 1800-1922'  (www.nggprojectucd.ie). Both projects are collaborations between literary studies and computer science. Derek Greene, of the UCD Insight Centre for Data Analytics, is my main collaborator on both projects. The research element in these projects is very different from the traditional idea of humanities researchers toiling away on their own in a library, as we need to constantly collaborate on processing and interpreting data. Last week Derek and I worked with Karen Wade, the postdoctoral researcher on the Nation, Gender and Genre project, on patterns in degrees of centrality of protagonists in our corpus - if this sounds very technical, it is. This kind of work requires heavy mark up of novels by researchers who understand how they work as literary texts (the redoubtable Karen Wade and Maria Mulvany), then application of an algorithm developed by Derek Green from which he produces statistics which he shares with us, along with data visualisations to help us interpret the data.  On this one, we have a lot more thinking, testing and checking to do together to come up with any conclusions. For examples of what we can find out, have a look at our website (www.nggprojectucd.ie)
While work on data progressed the project, it slowed down the chapter writing. Then there were all the other normal activities of the academic summer to get on with. Monday there was correspondence from the Irish Humanities Alliance board meeting and the brilliant 'Migration and the Humanities' workshop that took place at the Moore Institute NUIG the previous week. On Tuesday morning I was on an interview board for postdoctoral and teaching fellowship positions. Then I had a work programme to agree with a doctoral student before she goes home to visit family. I'm Research Officer for the School of English at the moment, so that afternoon I had meetings with colleagues who are developing new projects for next year, before finally getting back to Charlotte Riddell for a few hours.  Wednesday was actually a writing day, moving on from Riddell to L.T. Meade - both of them great fun to read, though I have to be careful in my selections, as they seem to have written more in their lifetimes than I will have time to read in mine. On Thursday my colleague Jo Robinson organised a fascinating event in the National Maritime Museum on Docklands Encounters (http://www.ucd.ie/humanities/events/ourevents/archive/name,376266,en.html), as part of an ongoing collaboration with the museum established by John Brannigan. I was enormously privileged to chair presentations by Silvia Loeffler on her 'artistic cartography' project in Dublin Port and Lt Commander Tony Geraghty from the Irish Naval Service. Silvia's work brings alive the history and culture of Dublin's docks and surrounding areas for a new generation. The presentation on the work done on our behalf by the naval service in rescuing migrants off Libya was both moving and challenging. The reminder of the unwritten law of the sea stretching back centuries, requiring all mariners to go to the assistance of those in distress at sea, was more than timely in a week when the willingness of those on land to look after the distressed was in question on every news bulletin. It was quite difficult to go back from that to nineteenth century fiction, but needs must. After Friday morning meetings about a  postdoctoral project and then an IHA planning meeting, I found myself back with another migrant, Riddell's haunted Hertford O'Donnell in a story that has scarcely been out of print since it appeared in the London Society Christmas issue in 1867.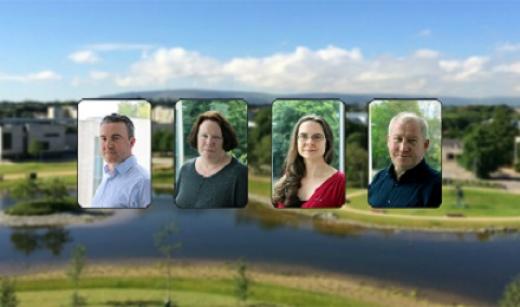 So what is it all for? In an age when government statements on higher education are all about industry and skills, why spend years researching nineteenth century novels? There are surprisingly direct practical benefits. Research projects offer important career and skills development opportunities for early stage researchers and for students. Nation, Gender and Genre has already led to an undergraduate and postgraduate course which are aimed to develop critical digital skills, an insight into collaborative teamwork and provide a new way of looking at familiar texts like The Sign of the Four or Pride and Prejudice. Dialogue between academics, artists, cultural institutions and public bodies is really crucial if society at large is to understand the value and gain the full benefit of academic research, so academic participation in events such as Dockland Encounters is crucial. Projects combining literary and computer science research draw on an area where Ireland has traditionally excelled and combine it with an area where we want to draw international attention to our excellence. Cutting edge research enhances the reputation of our universities - a much more practical necessity than you might imagine, as it impacts the employability of our graduates. Above all this though, there is the desire to know and understand, the need to learn from the past, the  role which culture plays in engaging with the present and imagining the future.  Our projects are concerned with how people imagined their society and their relationship to it. Working with the literature of the past is to work with something living and breathing, still making readers think, feel, imagine and -sometimes- change. It is a privilege, but it keeps me busy.