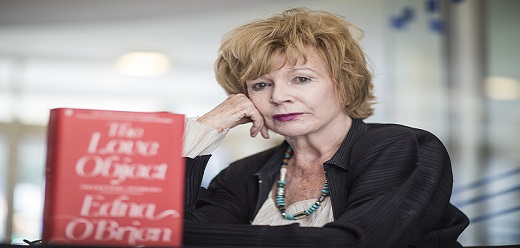 Last month, Edna O'Brien was awarded the 2018 PEN/Nabokov Award for Achievement in International Literature. Founded in 2016 as a collaboration between PEN America and the Nabokov Foundation,  and first awarded to the Syrian poet Adonis last year, the prize is conferred annually to a living author whose body of work, either written in or translated into English, represents the highest level of achievement in fiction, nonfiction, poetry, and/or drama, and is of enduring originality and consummate craftsmanship. The judges, Michael Ondaatje and Diana Abu-Jaber, chose O'Brien for 'the absolute perfection of her prose' and her 'powerful voice' which had broken down 'social and sexual barriers for women in Ireland and beyond'.
Edna O'Brien, whose most recent novel, The Little Red Chairs, was published in 2015, received the $50,000 award from the Irish novelist Colum McCann at a ceremony at the NYU Skirball Center for the Performing Arts in New York. She paid a characteristically backhanded compliment to Ireland in her acceptance speech: 'It's a wonderful thing to know that madness and obstacle are grist to the mill. [...] So I thank my country.' Neither did Vladimir Nabokov, after whom the award is named, escape, as O'Brien called him out briskly on his attitude to women: 'Mr Nabokov, genius that he was, was quite scathing of women.' Most of her acceptance address, however, was devoted to 'the importance of literature, the necessity for literature in our unhinged times.' She thanked PEN America, founded in 1922 to promote literature and human rights, for their work 'on behalf of those writers and journalists who are imprisoned, tortured and totally silenced.'
It is worth pausing on this to consider why O'Brien was awarded the PEN/Nabokov prize, and why, given her international success and now-secure reputation, her work was viewed as an appropriate fit in an awards ceremony where the book of the year prize went to Layli Long Soldier's debut poetry collection, Whereas, an unflinching rejoinder to the US congressional resolution of apology to Native Americans,  where Alexis Okeowo's A Moonless, Starless Sky: Ordinary Women and Men Fighting Extremism in Africa was awarded the Pen/Open Book Award, and Edmund White received the PEN/Saul Bellow award for achievement in American fiction as an 'LGBT cultural pioneer'. In this company, the PEN/Nabokov judges' citation of O'Brien is a salutary reminder of the public furore surrounding the publication of The Country Girls and its sequels:
Emerging from a time and place when women authors were not the norm, O'Brien endured public condemnation, her books were burned and banned. Through it all, her writing remained undaunted, vital, her force unmitigated.
Some of this is not entirely true –  for instance, O'Brien's work is overdue consideration alongside women writers of the previous generation such as Maura Laverty and Mary Lavin, both of whom wrote, in different ways, about wayward female sexuality in rural Ireland, but whose work was not received with such vituperation.  The famous book-burning in O'Brien's home parish in Co. Clare seems to have been a tokenistic affair, if it happened –  apart from anything else, copies of The Country Girls simply were not available in order to be burned – but the condemnation of her and of her writing was emphatically not.
Even though she was protected from some of the worst consequences of her books' banning by living in London, O'Brien was not exempt from the longer term effects. Despite being one of the few writers of her generation to publicly protest against censorship, for a long time her books signally failed to attract the kind of aesthetic approval that other writers banned in Ireland often had by virtue of association with Joyce, Beckett and Shaw. While Edna O'Brien's work was receiving international acclaim – ranging from the 1962 Kingsley Amis award to the 1995 European Prize for Literature and the 2002 American Medal of Honour for Literature – in Ireland it for many years failed to achieve anything like the prestige of the work of her contemporary John McGahern, similarly banned for obscenity in the 1960s by the Irish Censorship Board. O'Brien, it seemed, wrote the wrong kind of 'smut' – female.  In 1969, Benedict Kiely accounted for the continued official persecution of O'Brien's work as down to the feeling 'while it's bad and very bad for a man to speak out and tell the truth, it is utterly unthinkable that a woman [. . .] should claim any such liberty'.
Decades later, a lingering degree of academic snobbery, larded with sexism, was also slow to die. When, as a young academic who had previously worked mostly on Samuel Beckett, I co-edited a collection of essays on O'Brien, the proceedings of the first international conference on her work at NUI Galway in 2005, there was unconcealed sneering from some fellow Beckettians, who seemed to think I could not really feel that O'Brien merited serious critical attention. On the other hand, while American critics praised her first, it was sometimes hard not to be irritated by the fulsome praise lavished on her by those in whose eyes O'Brien too often remained a passionate, elemental colleen, 'cling[ing] to the tactile realities of another century's earthier, guiltier sensibility — to bogs and turf fires, to poverty and proud airs, lust and furtive ­passions', as Liesl Schillinger writes in her review of the short story collection Saints and Sinnersin the New York Times in 2011. That, at times, O'Brien's comments on Ireland – the talk, probably, of someone who has been asked the same questions far too often – have seemed to court that kind of stereotyping does not help, and I confess myself, as a reader and critic, personally uneasy with the abject romanticism of some of her work, the legions of heroines haplessly in love with unavailable brutes, underscored by a similar note being struck repeatedly in her 2012 memoir Country Girl. 
However, I could not agree more vociferously with Anne Enright in her admiring review of Country Girl, that 'it is important to praise O'Brien because she has taken enough insults in her day [...] O'Brien is the great, the only, survivor of forces that silenced and destroyed who knows how many other Irish women writers, and her contradictions – her evasions even – must be regarded as salutary.' Much subsequent Irish writing by women could not have happened without her. The abjection of the heroine of Louise O'Neill's recent Almost Love and the gothic house haunted by an abusive father of June Caldwell's 'Upcycle' from the collection Room Little Darker –two current books by young Irish women writers which happen to be on my desk – owe a debt to O'Brien. When she was inaugurated as a Saoi of Aosdána in 2015, shortly before the publication of her seventeenth novel, The Little Red Chairs, President Michael D. Higgins made an official apology for the scorn often heaped on O'Brien in her home country, characterizing her as a 'fearless teller of truth' who, he said, had continued to write 'undaunted, sometimes by culpable incomprehension, authoritarian hostility and sometimes downright malice'.  Fifty-five years after the notorious publication of her first novel, The Country Girls, O'Brien was officially, if belatedly, recognised in her own country as 'Wise One' and national treasure.
Yet, far from being defanged by this, the novel which appeared shortly afterwards pushed forward into risky new territory, dealing with a Bosnian Serb war criminal, modelled on Radovan Karadžić, who has escaped international detection and arrived in a small Sligo town to advertise his services as a healer. The decision to focus a novel on this was a particularly brave one in view of the outraged responses to her 1994 interview of Gerry Adams for the New York Times, shortly before the IRA ceasefire of that year, and her novel The House of Splendid Isolation,  whose sympathetic portrayal of the relationship between an IRA man on the run and an elderly woman saw O'Brien dubbed the 'Barbara Cartland of long-distance republicanism' by an Irish Times journalist. The Little Red Chairs was in the event positively received and sold over 250,000 copies in two years.
The Ireland of 2018, is of course, not the one in which O'Brien's books were censored. My students, when I used to teach The Country Girls at NUI Galway on a third-year course on banned books, alongside McGahern's The Barracks, Lolita, The Satanic Verses and Lady Chatterley's Lover, were politely baffled as to why it had been banned, and its author famously dubbed a 'smear on Irish womanhood.' It is a salutary thought. As James Wood, reviewing The Little Red Chairsin the New Yorker in 2016 says, 'it's easy, when a writer has become part of the fabric of one's life, to stop noticing how that fabric, once scandalously abrasive, still rubs against the skin.' Yet if her novels of the 1960s, once censored for their frank depictions of sex and female desire, no longer scandalise – indeed are now considered twentieth-century classics – her career has continued apace, and her work has continued to disturb and provoke.
Rereading the early work now, as I teach it at an English university in 2018, it is her deadpan, shockingly detailed depictions of cruelty that linger in the mind, not the sexuality – the routine brutalisation of women in rural Ireland,  their social powerlessness and invisibility, the stories of  'strange, throttled, sacrificial women' as she dubbed it in her story 'A Scandalous Woman', her trenchant fictionalisation of the 'X case' in Down By The River, when ownership of the female body is asserted by the Irish state, or the vengeful rape of the pregnant protagonist of The Little Red Chairs because of her involvement with a fleeing war criminal.
Although O'Brien has written numerous collections of short stories, plays, two memoirs, poetry, screenplays and biographies, her work has tended to be divided into phases primarily on the basis of her novels. There are the early, autobiographical books about women's struggles and desires (The Country Girls and its sequels, Casualties of Peace, Night, The High Road),  the later state-of- the-nation works about Irish history and politics (The House of Splendid Isolation, Down By the River), and the most recent novel, The Little Red Chairs, in which familiar small town Irish settings open out unsettlingly to the war in Bosnia, the International Criminal Tribunal in The Hague, and the plights and displacementsof refugees and migrants. The more obviously political novels of the 1990s and 2000s merely serve to amplify the underlying ideologies explored earlier in her work. O'Brien, in fact, was always a political writer. Her work demonstrates an astonishingly sensitive cultural barometer and has never minded its manners.
It is not simply that O'Brien is attracted to taboos, but that, throughout her career she has manifested an almost pathological need to enter no-go areas and to go on asking unwelcome questions about the uses of power in its most basic sense – what Margaret Atwood in The Handmaid's Tale dubs 'who can do what to whom'. The New Yorker's reporting of her PEN/Nabokov prize win includes an account of a conversation between her and her friend, the novelist Colum McCann, the day before the prize ceremony, in which he makes an acute remark. "You've been #MeToo-ing for the last fifty years." The comment was provoked by O'Brien talking about a recent research trip to Nigeria for her work in progress. This novel, Girl, scheduled for publication in 2019, was inspired by the kidnapping by Boko Haram of almost 300 schoolgirls in Nigeria in 2014. Announcing the novel at the Frankfurt Book Fair, O'Brien's editor Lee Brackstone said: 'In Girl, Edna O'Brien once again proves herself to be one of our most compassionate, stylish, and fearless novelists. [...] In her ninth decade, Edna is producing the greatest work of her staggering career. There is no more urgent writer working today.' Risky, yes, and liable to accusations of cultural appropriation and insensitivity, undoubtedly, but since when has Edna O'Brien's writing ever played it safe?