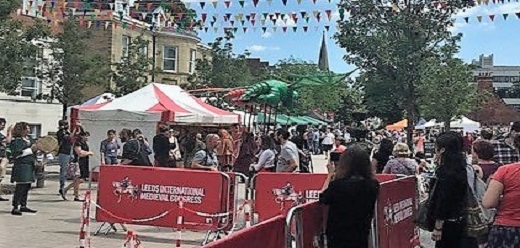 I Know What The Medievalists Did Last (and Every) Summer....
2900 medievalists, four days, 750 academic sessions, 2200 papers … and two dragons. It's fair to say that the Leeds International Medieval Congress (IMC) is quite the event, though it's far from the only thing in my diary between the end of exams in May and the beginning of the teaching semester in September.
On Sunday 1st July, I was heading to my second IMC as one of those thousands of people congregating in Leeds from all over the world. The bus journey from the airport to the University of Leeds campus puts you in the right mood by taking you past the twelfth-century ruins of Kirkstall Abbey, and before you know it, you're installed in university halls of residence and introducing yourself to people with 'I think we follow each other on Twitter?' (medievalists may be some of the most prolific tweeters in academia).
This year was the 25th IMC. Fittingly, its special thematic strand was 'Memory but – as ever – papers on 'any topic related to the Middle Ages' were welcomed, and I attended panels on topics ranging from pilgrimage to 'horrific memory' to nationalism. My own paper was part of a panel called 'Medievalism in 18th- and 19th-Century Literature in English'. 'Medievalism' is an umbrella term covering responses to the Middle Ages since their end, and it can refer as easily to the repurposing of a medieval morality play for Reformation propaganda as to Viking metal music (and yes, there was a panel on that). But then, with five hundred years to cover, medievalism needs to be a broad church.
I spoke about my postdoctoral project, which is funded by the Irish Research Council. I'm looking at how medieval German literature was rewritten in English during the long nineteenth century, and at the moment I'm focusing on translations of the Nibelungenlied, which was written down around 1200, and is one of the best-preserved pieces of medieval German literature. It's nearly 2400 strophes of love, betrayal, and catastrophic revenge, resulting in a body count which would make George R.R. Martin blush. One of the reasons the Nibelungenlied caught the attention of so many anglophone translators in the nineteenth century was the tendency to describe it (anachronistically) as 'Germany's national epic'.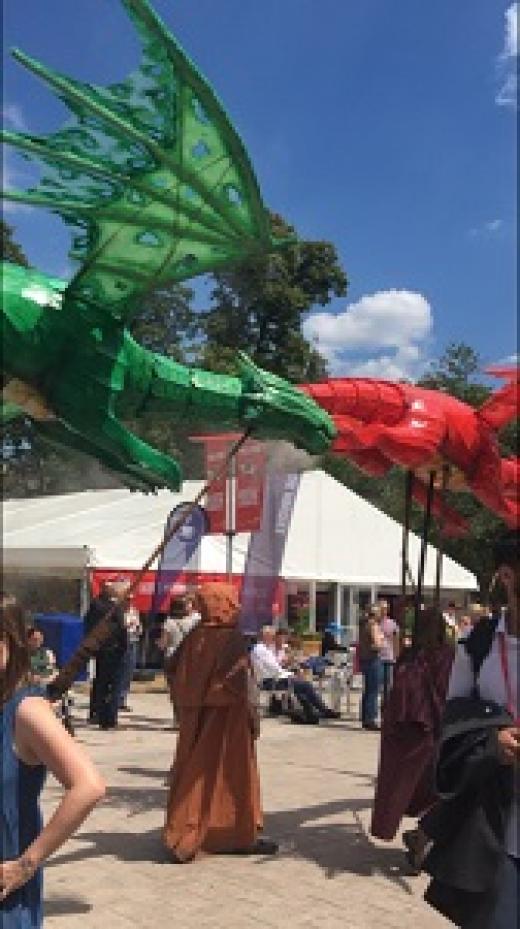 My paper at Leeds focused on two of these translations: the first (supposedly) full translation in English, published in 1848 by Jonathan Birch, a personal friend of the Prussian King Frederick William IV; and the first American translation, published in 1877 by Annie Aubertine Woodward, though she used the androgynous pseudonym, Auber Forestier. Birch uses translated German literature to advertise the Prussian monarchy, and Woodward aims to re-make a medieval text so that it's appealing to contemporary 'American lovers of romance and chivalry'. Essentially, we've got a German push factor and an American pull factor.
Leeds IMC isn't only about giving and listening to papers. Every evening there are a number of parallel round table sessions, which offer more opportunities for discussion, both about topics covered by panels earlier in the day, as well as about issues relating to the field of Medieval Studies itself. Amongst these was Racism and Nationalism in Medieval Studies and in Medievalism, an urgent topic in 2018, both inside and outside traditional academic spaces. These round tables are bookended by parallel wine receptions (not to mention Wednesday's disco, described by a friend as 'see your bibliography on the dancefloor'). There are two bookfairs: the antiquarian bookfair and the IMC bookfair, where there are representatives of many major academic publishers, and most conference delegates find themselves leaving with much heavier bags than the ones they brought. Thursday sees 'Making Leeds Medieval', which is where those smoke-breathing dragons come in, along with a medieval crafts fair, birds of prey display, and other activities. Entry is free, and members of the public are encouraged to come along.
On Thursday, we all headed our separate ways, some to institutions with a strong Medieval Studies tradition, others to universities where medievalists are thin on the ground. By the time I got back to my desk after the International Medieval Congress, my head was swimming with new ideas about how I approach my own teaching and study of the Middle Ages and about Medieval Studies as a discipline. But right now I need to work on my other 'Busy Season' tasks: there's an article and a book to edit, another couple of conference papers to write and present, a conference abstract to write, and a guest-authored blog to coordinate, as well as preparation for a conference and a colloquium I'm organising next year. By then it will be time for the next IMC…