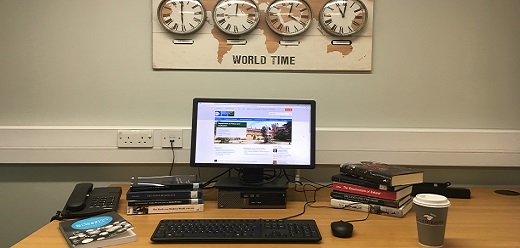 Stop the Clocks: Writing global history on British Summer Time (BST)
The clocks go forward in the summer – fast-forward! The telescoping of time between academic terms is an all too familiar late-summer psychology. The halcyon days of June – career-defining book, well-placed journal articles, a summer stream of email-free ideas – seem to unconsciously slip into August melancholy – deadlines – edits – final checklists. This is the sunless silhouette of an academic historian, writing on British Summer Time (BST). But what is it to write beyond place and time? Since September 2017, I have been employed as Research Fellow to the AHRC-funded 'A global history of Irish Revolution, 1916-1923' project, at Queen's University Belfast. Led by Professor Fearghal McGarry (Queen's University Belfast) and Professor Enda Delaney (University of Edinburgh), this three year project (2017-20) explores the global impacts of, and influences on, Ireland's revolution between 1916 Rising and Irish Civil War (1922-23), through original archival research in Africa, Australia, the Americas, and beyond. The project aims, ultimately, to produce global histories of the Irish Revolution, through publication, presentation, and academic engagement. Writing global history, accordingly, is an exercise in world-time management. Working from my office on University Square, I am transported to Toronto (conference invitation), Florence (funding application), Melbourne (research consultation), Tokyo (research collaboration). The clocks go forward and back daily for scholars of global history. The following offers a postcard-view of one such day at Queen's, on British Summer Time.
Early morning optimism, via 'Clements Coffee', brings me to the McClay Library to continue a review article on the global Irish Revolution for the Journal of Global History. Queen's, as library repository, has developed a growing global history specialism. Over four hundred print volumes in the McClay catalogue are categorised as global history studies; a further five hundred titles are available on its digital shelves. English, French, and German languages are on offer. Its holdings, further, counter-balance what Valentin Mudimbé has termed the 'colonial library', the collection, and study, of non-Western histories as 'other'. Readings from the 'global south' are inherent in the McClay global history collection, with over five thousand narratives of African, Latin American and Asian history to choose from. This morning I choose Frederick Cooper's Africa in the World: capitalism, empire, nation-state (Cambridge, 2014) and Andre Schmid's Korea between empires, 1895-1919 (New York, 2002). Reading from these texts, and other historical geographies, prompts me to rethink the Irish Revolution, the way that it is researched, and the way that it is written. Was the Irish Revolution a divisive global experience: 'West vs. Rest'? How can Irish historical scholarship integrate non-Irish History scholars? Has the existing historiography privileged Irish-island archives to the marginalisation of alternative, global sources? These and other questions occupy me until lunch.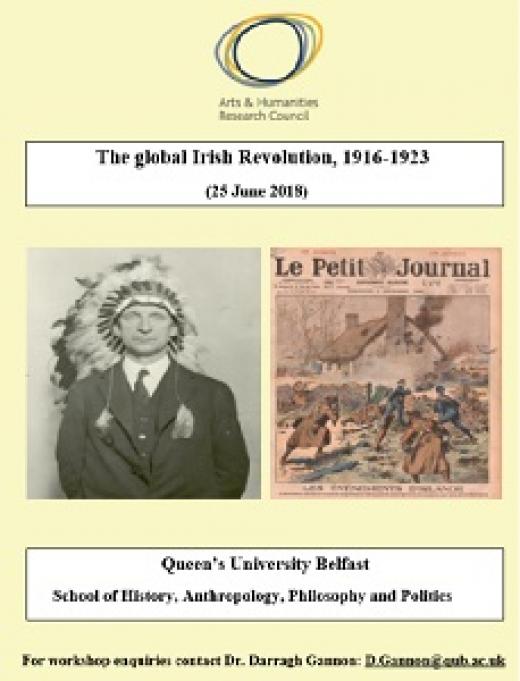 A smørrebrod at the Nordic-inspired 'Kaffe O' on Botanic Ave. later (recommend!), I'm back at my office, preparing for the project's first early career workshop on 25 June. Twenty international scholars will attend our eponymously titled workshop: 'The global Irish Revolution, 1916-1913'. Emails, correspondingly, are circulated to visiting speakers from Australia, Canada, New Zealand, Spain, the United States, the United Kingdom, and Ireland. Replies arrive promptly from those in the Western Hemisphere – it's 11pm in Melbourne. Later in the afternoon I join colleagues for coffee in the adjacent 'French Village' to exchange ideas on the co-ordination of the forthcoming global history event at Queen's. The faculty at the School of History, Anthropology, Philosophy and Politics, possess a range of research interests and expertise, from nineteenth century America to twentieth century China. The breadth of such conversations – beyond borders – directs my thinking on the global Irish Revolution, and the attendant workshop, towards an exploration of thematic studies in lieu of area studies. Intellectual debate at the workshop, consequently, flows between contributors and continents. The workshop report will be published by the Toynbee Prize Foundation.
The walk home, at 5pm (local time), takes me from office to office. The project is publishing a 'Global Revolution' special issue with History Ireland in early 2019. My article, entitled 'The News of the World: a global reading of the First Dáil' is greatly informed by the digital newspaper archives available to us at Queen's. In addition to the 'Irish Newspaper Archive', the Readex 'World Newspaper Archive' can be accessed remotely by University faculty, visiting fellows, and international students. Comprising newspaper series from Latin America and the Caribbean, Sub-Saharan Africa, and South Asia, this resource opens the Irish Revolution to new languages and new cultures of interpretation. As Richard Drayton and David Motadel have recently cautioned of global history's developing English canon: 'We should prioritize the means of repatriation, via the internet, of the archives of Latin America, African, and Asian history…[our debates] will be dialogues of the deaf if we do not work actively against the idea that the business of history can or should be done in English, or that only which is translated or translatable'. Searching through Argentinian, Brazilian, and Mexican newspapers as the Belfast evening fades, I find fascinating articles on 'Irlanda y el Sinn-Feinismo', 'Congress Republicano da Irlanda', and 'Agitacion Sinnfeinista'. More tomorrow. The sun never sets on this empire of global history.
Working at Queen's supports the writing of global history as daily academic journey. From Beijing to Berlin, Moscow to Melbourne, the University has offered me the intellectual space, stimulation, and sources, to travel the world of global history on British Summer Time. Wish you were here!