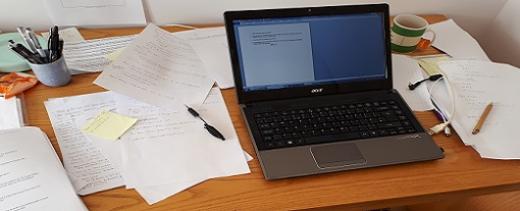 This week, as we near the end of July and I ponder 'where the summer is disappearing to?' has been a rather typical one. Different aspects of my academic job had to be juggled, from journal editing, to my funded-research project, my theatre research, and, finally, attending a conference.
I took on the role of Editor of the Irish University Review in January of this year. To mark the transition, and also to reflect on the shifting artistic and political context generated by Brexit, we decided to publish an unprecedented three issues in 2017, with not one but two Autumn/Winter issues: one a 'General' issue as normal, and one a bonus 'Special' issue on Writing from Northern Ireland. And this was the week that both Autumn/Winter issues had to get delivered to Edinburgh University Press!
Preparing the final manuscript involves everything from really engaging decisions about cover images – the General issue will have a previously unpublished portrait sketch by Countess Markievicz, marking the 90th anniversary of her death – to the really mundane tasks of proof-reading footnotes and typesetting text. It was a great feeling to press 'Send'!
Meanwhile, my research focus this week has been on the Industrial Memories project, which I lead with Professor Mark Keane from Insight and UCD Computer Science, alongside Dr Susan Leavy. The project, funded by the Irish Research Council New Horizons scheme, is a digitisation of the 2009 Report of the Commission to Inquire into Child Abuse (commonly known as the Ryan Report), and a demonstration of how digital technologies can enrich humanities approaches to texts. I say 'texts' – it often elicits surprise that someone working in a School of English, Drama and Film, and who more usually publishes on theatre and memory, is working on an official government report. But this project is driven by the idea that the Ryan Report is one of the most important publications in the history of the Irish state and that it is also one of the least read.
As humanities scholars, we are highly trained readers – and so it follows that we have an ethical imperative to expand our concept of 'text' and start to read important documents like this. How is the report narrativised? How does the voice of the 'Commission' operate? Can we think about authorial intention? How might we classify this text generically? How can we look at the cultural context of this text, or consider its contribution to the wider culture?
And, for the purpose of this project, how can we harness digital approaches to text corpora in relation to a 2,600-page document about historical child abuse? It has been an eye-opener for me to take this approach, inspired by Mark and Susan. Together we have worked to build the Report into a database, so it is now fully searchable. This week we have been finalising an article on 'Retrospective Analyses of Child Abuse Reports: Using Data Analytics to Gain Insights', which explains how data algorithms can be used to identify particular narratives of abuse. As this article argues, using a data analytics approach enables us to show the systemic nature of abuse of children and, in particular, the unofficial policy of transferring abusers from institution to institution once, twice, three times…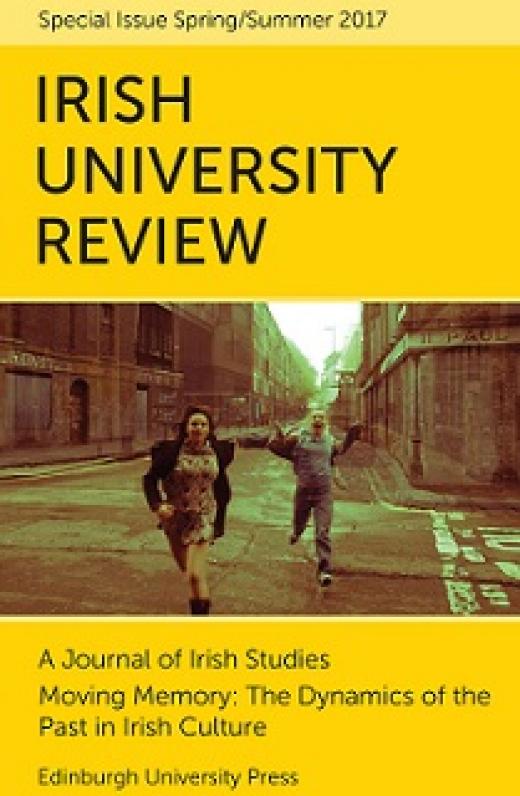 This week I was also very pleased to get access to a video of Claudia, a documentary play by a Spanish theatre company whose work I really admire, La Conquesta del Pol Sud, which will make a major contribution to the book I'm writing on theatre and testimony. The even better news is that there will be an English-subtitled production in Belgium in November, so I'll get to see it live.
I watched Claudia on my laptop as I took a series of long flights from Ireland to Singapore, to attend the IASIL conference at Nanyang Technological University. The programme of academics and writers promises to be really engaging, and I will have an opportunity to present some of our work on the Industrial Memories project.  
So this week was a mix of deep research engagement, careful editing and, of course, administration – including budget-reallocation forms, hourly-paid claim forms, conference planning, curriculum reviews, countless emails and so on – a scenario that most academics will recognise.
While I love the challenge and variation of my job, with all this juggling I find myself, time and again, having an internal conversation (debate might be more accurate) about how to set healthy boundaries around work – not checking email after hours, for a start. But the nature of the academic job means that so often it leaks into my surrounding life. I recognise that this is partly driven by the fact that I love my work and that the nature of humanities research is such that its core tasks – from reading and engaging with culture, to thinking and planning projects – don't just switch off. But it's also inevitably because of how, increasingly, universities push their staff so that responding to emails before breakfast and tackling research over the weekend because it's the only 'quiet' time we get, are now normal practice. Doing this blog post has been an interesting exercise in taking a step back and itemising the kinds of tasks I do in a single week. But I can't help wondering - when do we switch off?