Institution

University of Galway

Department

O'Donoghue Centre for Drama, The School of English and Creative Arts

Summary Impact Type

Educational, Cultural, Policy, Community

Research Subject Area(s)

Drama and Theatre Studies - transnational, interdisciplinary, qualitative, and quantitative analysis of the economics of independent theatre production between 2000-2020 informed by the economic, geographic, artistic and socio-cultural conditions of Ireland, Northern Ireland and Scotland.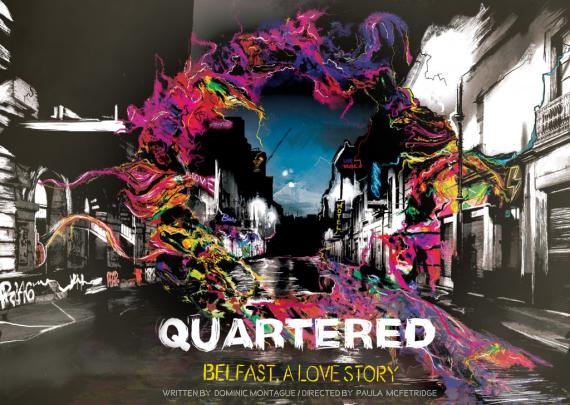 Image design by Conor McClure for Kabosh production 'Quartered: a Belfast Love Story' .
The Price of Performance: A Question of Economic Sustainability for Independent Theatre Production in Ireland, Northern Ireland and Scotland, 2000-2020
IRC Laureate 2023-2025, University of Galway
PI: Dr Miriam Haughton & Postdoctoral researcher, Dr Patricia O'Beirne
Project Overview
The Price of Performance (TPOP) provides the first transnational, interdisciplinary, qualitative, and quantitative analysis of the economics of independent theatre production between 2000-2020 informed by the economic, geographic, artistic and socio-cultural conditions of Ireland, Northern Ireland and Scotland. Through this research, TPOP asks if and how economic sustainability arises for independent theatre production, despite the varying challenges the sector confronts.
Theatre economics set parameters for what is produced on stage, and thus, what may be analysed to produce knowledge. Yet, there is no substantive research pertaining to the economics of independent theatre production nationally or transnationally in twenty-first century northern Europe. The Eurozone economic crash and ongoing recessionary impact (2008), the environmental crisis and Paris Climate Agreement (2015), the consequences and implications of Brexit (2016) and most recently, the COVID-19 global pandemic (2019), have created conditions of intense turbulence economically, politically, socially, and environmentally. The conditions for imagining, producing, co-producing and touring performance in Ireland, Northern Ireland and Scotland are thus informed by and respond to these conditions, which are local, regional, national and global. In turn, this frames the scope for creative potential, expression and encounter.
TPOP is led by the question of economic sustainability for independent theatre production locally, nationally, and internationally, which includes analysis of theatre's carbon footprint in this time of eco-crisis. However, TPOP's novel objectives will also question what is not being produced due to economic turbulence and world events because of its bespoke blended methodology that includes qualitative and quantitative analysis in addition to financial data analysis, theatre production analysis, cultural economics and policy analysis.
Principal research aim
TPOP's primary research aim is to analyse the economics of producing independent theatre in Ireland, Northern Ireland and Scotland between 2000-2020 to assess if, and, how, models of economic sustainability emerge. This is a turbulent period marked by crisis, including declining industries, seismic climate and economic challenges, national security challenges, and a global pandemic that forbids collective gathering, a previously accepted foundational element of theatre.
Research Questions
1. How has independent theatre production been costed in theatre, arts and cultural scholarship and policies in Ireland, Northern Ireland and Scotland since 2000, further framed by EU arts policies, investments and programmes?
2. What are the established financial structures of independent theatre production as captured by production reviews with six companies via the interplay of theatre budgets, funding models, the relationship between private and public sponsorship, partnerships, revenues generated from ticket sales and associated production events?
3. What is the impact of major political, economic, social and environmental change in the twenty-first century on the economic sustainability of independent theatre production in northern locales particularly in relation to touring opportunities, and, challenges presented by the Eurozone crisis (2008), the Paris Climate Agreement (2015), the initiation/development of formal Brexit proceedings (2016) and COVID-19 (2019)?
What does economic sustainability look like for independent theatre?
TPOP will bridge the fields of theatre studies with cultural economics and cultural policy. Significant gaps exist in how academic theatrical scholarship occurs; the focus remains the content produced on the page and on the stage, and little analysis of the funding or economic details that ensured the play could be produced (or not). The lack of economic investigation of theatre production may result from the fact that theatre scholars and theatre artists are arguably more motived and inspired by the creation of art than the creation of revenue. Thus, it follows that economic expertise is not a leading priority for those who study and train in theatre, yet it becomes a leading priority for the production and sustainability of theatre.
Within the discipline of theatre and performance studies, the lack of critical enquiry regarding the cost of producing theatre and theatre economics has become habituated. There is no unified body of work that historicises, situates, or critiques the economics of contemporary independent theatre production in Ireland, Northern Ireland and Scotland. Some engagement with this field has gained momentum in US and UK led theatre research, particularly in historical contexts that address Anglophone urban centres, illuminating the fundamental links between arts policy, politics, and production. TPOP proposes that the scholarly understanding of theatre should leap forward to include the detail of these economic production contexts as essential information, as part of the theatre and performance 'text' that justifies the primary and initial scholarly engagement with theatre in the first instance.
Methodology
TPOP will occur through theatre performance and production analysis, cultural economics and cultural policy analysis, qualitative research with six independent theatre companies, and quantitative research through national and international theatre organisations and networks. TPOP will deliver three work packages over 30 months, further supported by an international advisory panel.
Companies selected ensure inclusion of both urban and regional locations with an active and diverse production history throughout 2000-2020. The locations under consideration cannot rely wholly on a regular high turnover of tourists to achieve sustainable ticket sales, as with Broadway or the West End. In addition, they regularly experience increasing emigration patterns, thus, audience and artist demographics are subject to fluctuation. Independent companies cannot be assured of annual public funding and are usually reliant on touring for economic survival. With Brexit and visa implications, and indeed, COVID-19 and vaccine/quarantine implications, economic planning for production must be agile and resilient. TPOP's selected companies target distinct audience demographics, producing children's theatre, devised and experimental work, political theatre, popular theatre, installation theatre, and bilingual theatre. By working with this rich diversity of content, a wide range of production histories and economic strategies will be available to TPOP.
Companies
• Branar Theatre, Co. Galway, Ireland
• Kabosh Theatre, Belfast, Co. Antrim, Northern Ireland
• Rough Magic Theatre, Dublin, Ireland
• Dogstar Theatre, Inverness, Scotland
• Catherine Wheels, Musselburgh, Scotland
• Oceanallover, Dumfries, Scotland
TPOP Impact
The results of the research will lay the groundwork for urgent critical shifts in academic enquiry. TPOP will illuminate the fundamental significance of economics in the production of independent theatre from the point of conception artistically to the event of creation as manifest by performance. In ongoing turbulent economic, political, cultural, social and environmental climates, what issues and events impacted achieving funding, whether positively or negatively? What has not been funded? What could not occur as a result of diverse and time-critical economic environments? How is risk responded to, and what contingency measures were in place? What may we imagine and create in the future if economic sustainability were to emerge? These questions drive the research impetus of TPOP, intersecting the space of the academic researcher, the theatre producer/artist, the audience/community, arts councils and agencies, and local and global economies.
Dr Miriam Haughton is PI of IRC Laureate project 'The Price of Performance' at the University of Galway, and President of the Irish Society for Theatre Research. Monographs include The Theatre of Louise Lowe (Cambridge, 2024), and Staging Trauma (London, 2018), and co-edited collections Theatre, Performance and Commemoration (New York, 2023), Legacies of the Magdalen Laundries (Manchester, 2021), and Radical Contemporary Theatre Practices by Women in Ireland (Dublin, 2015).
Dr Patricia O'Beirne is a postdoctoral researcher working on 'The Price of Performance. She completed her Doctoral Thesis as an Abbey Theatre Digital Archive Researcher (2018), at the O'Donoghue Centre for Drama, Theatre and Performance, University of Galway, where she also completed a Masters in Drama and Theatre. Publications include articles and chapters on the Abbey Theatre archive digitisation, and Irish feminist, political and working-class theatre and playwrights.
See: The Price of Performance Linkedin page